3D Printing Files that Made an Impression in 2021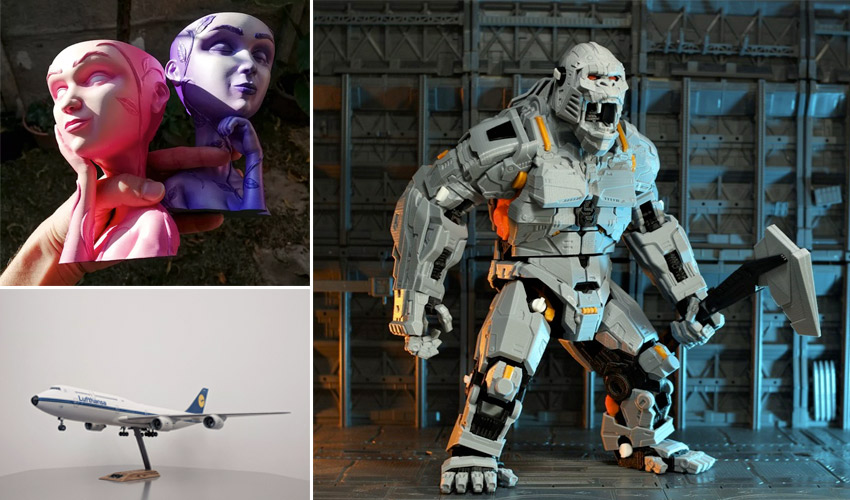 The end of the year (or the beginning!) is often the occasion for 3Dnatives to look back on the best moments of 2021 and to highlight some of the initiatives that have impacted the 3D printing market. This time, we wanted to highlight the 3D printing files that have been successful in 2021 due to their originality, creativity and complexity. We've selected some of the 3D models available on the Cults platform, including files created by the best designers identified by the company. Cults has listed 15 who, according ot htem, have distinguished themselves with their STL files. Take a look and don't wait to download these 3D models and start up your 3D printer!
A Print-in-Place Articulated Dragon
We start with a Print-in-Place model, that is to say an articulated model that does not require any assembly after printing. It is a dragon created by the Spanish designer mcgybeer. The file has experienced a huge amount of success within the Cults community, with 17,800 downloads in only 45 days! Except for the legendary animal's mustache, the whole piece prints in one go. The designer recommends a slow, thick first layer at 0.3mm with a speed of 8mm per second. You can download the pattern for $4 HERE.
3D Print Your Own King Kong
The designer Toymakr3D specializes in the design of articulated robots that are based on characters from movies or cartoons. For the top 3D printing files from 2021, we chose the articulated Mecha King Kong that measures 32 cm high. It includes several parts to be 3D printed and assembled – you will certainly need patience if you want to reproduce it at home. The designer has published a video of the different steps for creating the part. Discover this impressive robot by yourself below:
A Home-Made Advent Calendar
If you're a fan of additive manufacturing, you've probably already heard of the Youtube artist Heliox who shares many 3D printing projects and her tips for successful creations. This year, she showed off a DIY advent calendar, surely more original than the traditional chocolate ones. It is composed of 24 small 3D printed gifts to be fixed on a garland. You will have to print the gift with its ribbon,as well as the different numbers to know which box to open on the right day. No printing supports are necessary. A great idea for next year!
A Small Table to Adapt to Your Every Desire
Studio Boem designs original 3D printed furniture and objects for your home. For this listing, we chose the Piano Table whose height can be adapted by simply turning the top of the table, like with photo booth stools. Depending on the size of your 3D printer, you can also adapt the size of this table. The 3D model can be downloaded from cults for $13.53.
Alphonse Marcel's Old Fashioned Vehicles
Alphonse Marcel is a Parisian designer who is mainly inspired by the dieselpunk and steampunk trends. For our 3D printing files from 2021, we wanted to highlight this old-fashioned car in parts. The proposed 3D file includes the body, the hood, the grille, the steering wheel, the wheels as well as several accessories such as gas cans, tires or the driver. The designer claims that total printing time will be about 9 hours.
Highly Detailed 3D Printing Files in 2021
The designer EmanG is passionate about role-playing games and decorative figurines, a passion that led him to imagine several impressive 3D printing files in 2021. They are extremely detailed, especially if you choose to make them using stereolithography. The 3D printed parts represent all kinds of creatures, especially "warrior rats". It is an extremely precise and meticulous work that earns him a place in our ranking!
Easier Tea Storage for Practical 3D Printing Files from 2021
The German designer gazzaladra offers many useful 3D models for everyday use, which can all be printed on an FDM machine without support. For example, this tea bag dispenser to hang in your kitchen. With a size of 66 x 77 mm, it can hold 25 tea bags. The wall mount is also included in the download and should also be 3D printed. The designer recommends using a classic PLA.
A 3D Printed Version of Your Favorite Mask
Clown, Deadpool, Spiderman, SquidGame: the designer Bstar3Dart has imagined a whole series of ultra-realistic masks able to be 3D printed. In addition to the meticulously created designs, he spends many hours on painting, adding  aestheticism and realism to the accessory. We chose one of the masks from the flagship series of Netflix, Squid Game, for its removability and practicality. It is composed of 3 parts to print: the upper mask, the lower mask and a nose support for those who wear glasses. You can then make the middle symbol from a simple stencil and a can of paint as you will see below:
3D Printed Miniature Planes
It's hard to talk about 3D printing without mentioning the aerospace industry as it is one of the sectors of activity that uses 3D technologies the most today. That's why the designer CLERX is highlighted. He is an aviation enthusiast and aircraft maintenance engineer. Thanks to his hobby, he has created several Boeing, Airbus or De Havilland scale models using 3D printing. He recommends the use of FDM and PLA for the aircraft itself. The paint job afterwards will bring this realistic side that we find on all these 3D models.
Goddess Vase 3D Printing Files for Everyone in 2021
We always need a vase at home so why not 3D print it? The designer Pipe_cox proposes 3D models of pots for your succulents or cacti. They represent the faces of Aphrodite and Venus, goddesses of love, beauty and fertility in Ancient Greece and Rome respectively. The pieces have been printed with PLA without support and then hand painted for an even more aesthetic result. You will be able to personalize your small vases according to your desires! Note that the designer has designed multiple 3D printing files of vases throughout 2021, so there is something for everyone!
Which are your favorite 3D printing files from 2021? Let us know in a comment below or on our Linkedin, Facebook, and Twitter pages! And don't forget to sign up for our free weekly Newsletter here, the latest 3D printing news straight to your inbox! You can also find all our videos on our YouTube channel.