3D chocolates with exotic shapes and flavours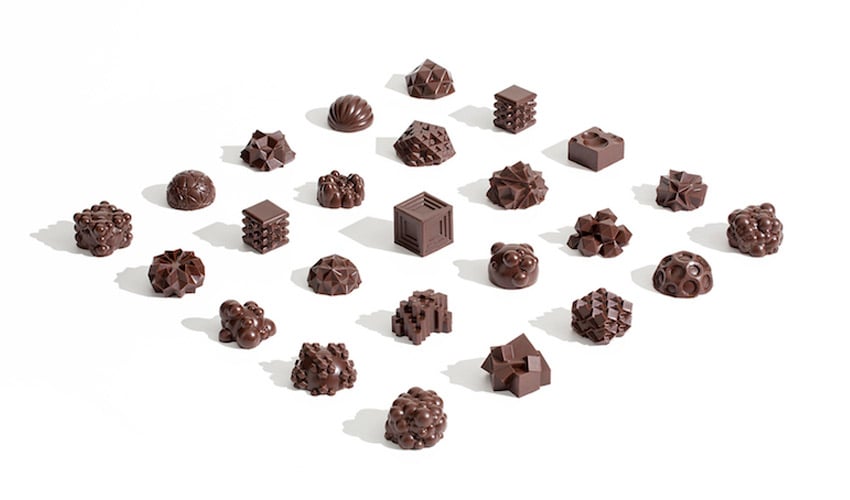 Have you ever tasted 3D chocolates, little sweets that were made thanks to 3D printing? This was imagined by artist Ryan L. Foote who combined the 3D technologies and traditional techniques of chocolatiers to create a range of unique chocolates in various shapes. By 3D printing his food molds, Ryan is able to design complex geometries and offers quite original aromas. We hardly dare to eat them so much they are beautiful!
When you take a close look at chocolate making, you'll realise that 3D printing has found its place in the kitchen. More and more chocolatiers are embarking on food 3D printing, mainly to design the molds that will be used to create these little sweets. Worth noting is also that some 3D machine manufacturers have developed 3D chocolate printers. An example is 3D Systems with its CocoJet that extruded successive layers of melted chocolate. However, these machines are still little marketed on the market and many manufacturers have failed in their development.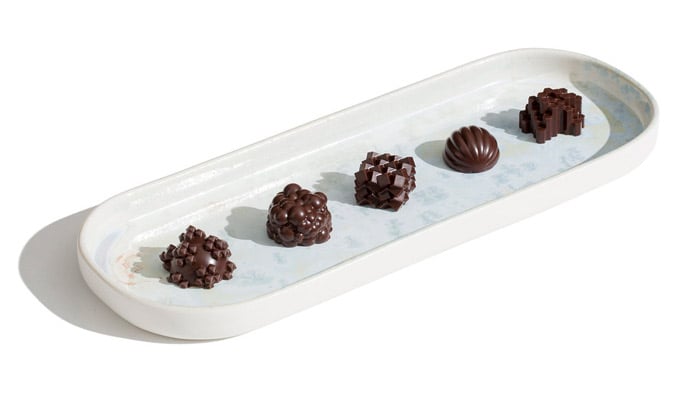 3D chocolates that combines craftsmanship and technology
Ryan L. Foote explains that he uses 3D printing to create his molds in which he later directly sinks his mixture into. By using 3D technologies, the chocolate obtains complex shapes that could not have been created otherwise. He continues: "For the last few years I have been working on reinventing the traditional soft centered chocolate for the digital age. There have been some exciting things happening in the bean-to-bar space but I felt the traditional bon bon has remained more or less the same,"
He therefore chose rather unusual aromas like Australian plants and traditional flavours from Hong Kong. It is mainly inspired by architecture and nature, including minerals and geological formations. If you look at the site, you can order chocolates based on salted coconut, eucalyptus or with a red bean ganache.
The artist also offers some ceramic tableware items that were created from 3D printed molds. You can buy a cup to drink hot chocolate but also a tray to present your sweets. The project had a successful Kickstarter campaign ending in mid-November, opening up for the opportunity to taste more exotic chocolates as we moved through Christmas and are getting closer to the new year!
What do you think of these 3D chocolates? Let us know what you think in a comment below or on our Facebook and Twitter pages! Don't forget to sign up for our free weekly Newsletter, with all the latest news in 3D printing delivered straight to your inbox!