3D Bioprinters: The Main Manufacturers on the Market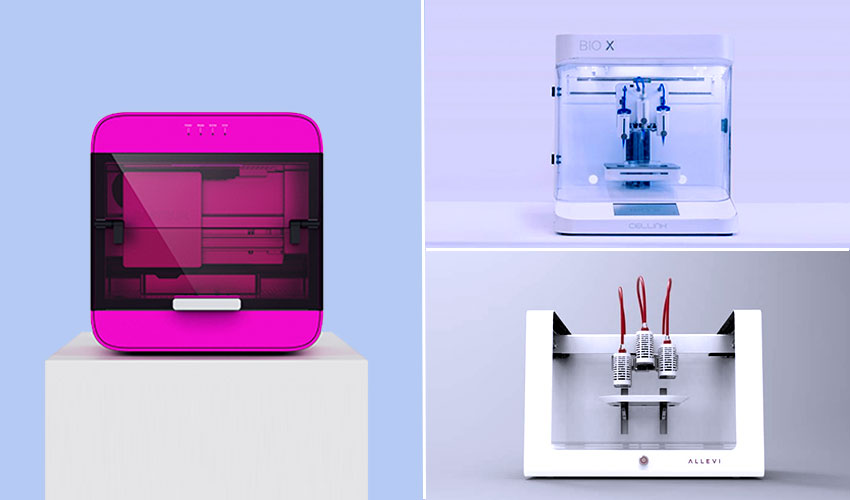 If you are interested in the role of 3D printing in the medical sector, you have almost certainly heard of bioprinting. This technique is unique in that it allows for the creation of cellular structures, made from specially designed bioinks composed of stem cells. Most 3D bioprinters are based on the same principle: they deposit the material layer by layer, usually using a syringe. However, there are 3D bioprinters that use a laser as an energy source or that deposit the bioink drop by drop, similar to a Material Jetting 3D printer. And the excitement surrounding this process is not undeserved. Already we have seen it being used for the creation of organs such as hearts, livers, and even eyes. What you might not know is that there are already a number of 3D bioprinters on the market, available for both research and commercial use. To help you understand which ones are currently available, we have selected a number of 3D bioprinters in our list below, sorted alphabetically by manufacturer's name. 
Advanced Solutions
Advanced Solutions is a company that has already added a variety of innovative bioprinting devices to the AM market. The latest model of its BioAssemblyBot product line, which was originally launched in 2015, is the BioAssemblyBot 500 (BAB500). The new addition to the series is the only machine of its kind to feature a six-axis robotic arm with an integrated Class II, Type-A biosafety cabinet. This combination of unique features, which is further enhanced by a collection of tools, allows operators to have a completely new sense of control. With the BAB500, operators are able to control temperature, pressure, UV exposure, and more, while conducting the 3D bioprinting process. The BAB500 is a bioprinter that, with its biosafety cabinet that ensures a sterile environment, is the perfect device suitable for scientific research.

Allevi
Allevi is a young American company that started developing 3D bioprinters in 2014, and later became part of 3D Systems in 2021. Ever since starting the company, Allevi's founder and CEO Ricky Solorzano, who was once listed among Forbes' and Inc.'s 30 under 30 lists, steadily kept an aim on innovation. The company's current Product range consists of three bioprinter models: the Allevi 1, Allevi 2, and the Allevi 3. The latter features 3 extruders and combines multiple materials to create fabrics and complex solutions. It also has an automatic calibration system and its tray can have Petri dishes or well plates and glass slides. The Allevi 3 features multiple applications, which allow operators to create soft and hard tissues, as well as bones and cartilage. 
Aspect Biosystems
Aspect Biosystems is a Canadian research company that was one of our '3D startups of the month'. It began its journey back in 2013 and has successfully patented its Lab-on-a-Printer ™ bioprinting technology since, designed to produce physiologically complex human tissues in a personalized way. The company began marketing its 3D bioprinter RX1 ™ a few years later. This machine offers flexibility and control in the 3D manufacturing of heterogeneous fabrics. Aspect Biosystems also supplies a wide range of biomaterials and various print heads.
Axolotl Biosystems
The Axolotl Biosystems -Axo A6 is a multifunctional bio-3D printer, which has six independent printhead slots, allowing it to perform multiphase bioprinting. The Axo A6 also has a wide pressure and temperature range of 0 to 800 kPa, which ensures that all needed requirements for the printing are met. For example, the printhead solutions can be heated up to 265 °C and the print beds can be cooled down to -10 °C thanks to a liquid-based cooling system. The printer enables the integration of a wide range of applications, such as heated and cooled printheads, cell electrotype printheads, melt electrotype printheads, UV curing- and HD camera toolheads. These features enable many different types of research.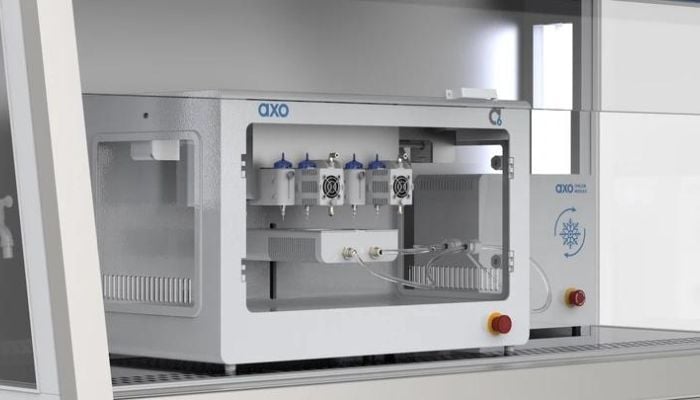 BRINTER

 
California-based company Brinter is a spin-off of the Finnish company 3D Tech Ltd. that is focusing on the development of 3D bioprinters. The BRINTER ONE's main features include, aside from its ability to automatically change its dosing head, and thus contributes to a higher cost efficiency, special germicidal UV-LEDs for the production of tissue-like constructions by using a layer-by-layer printing method. In addition to that, users benefit from the large built-in volume of the BRINTER® ONE, which measures 304 x 174 x 80 mm, as well as an integrated camera for online process monitoring. The BRINTER® ONE can be used in the production of individualized tumor models, cartilage repair, and the production of pharmaceuticals.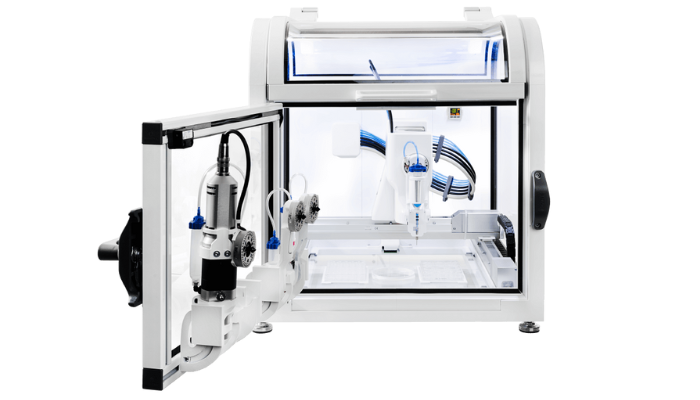 CELLINK
CELLINK is undoubtedly one of the largest manufacturers of 3D bioprinters on the market. Since its creation in 2016, the Swedish company has developed several machines that contribute to the development of tissues and microorganisms that can be used to test new pharmaceutical and cosmetic products, with a potential future application in regenerative medicine. Its range now includes 6 bioprinters, most of them based on an extrusion process: the solutions are said to be used by more than 700 laboratories worldwide. One of its flagship models is the BIO X, which integrates 3 different print heads, making it easy to change printing techniques or use several materials. It is able to design structures from any type of cell, whether endothelial cells, strains or fibroblasts.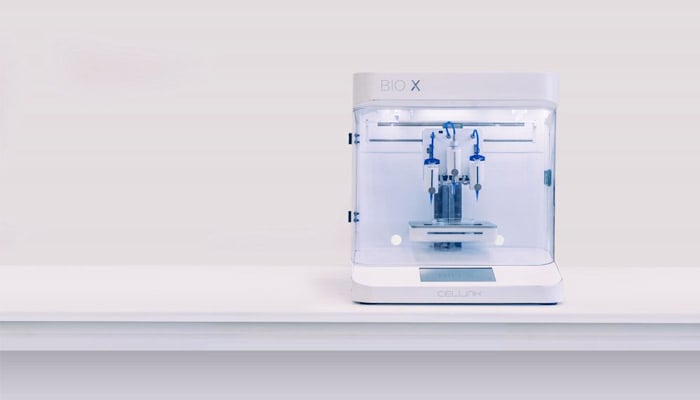 Fluicell

 
Fluicell was founded in 2012 as a spin-off from Chalmers University of Technology. The company specializes in high resolution bioprinting and single-cell biology. They currently have two bioprinters in their product portfolio, the 3D single-cell bioprinting platforms Biopixlar and Biopixlar AER. The AER is a more advanced version of its predecessor and is a compact microfluidic bioprinting platform that has been designed to fit into a fume hood or biosafety cabinet. The platform is unique because unlike many others on this list it actually does not use bioinks. Rather, it allows for users to deposit cells using the microfluidic printhead, allowing for everything from single-cell arrays to detailed tissues with multiple different cell types. This also results in a 95% cell viability and the printer has been optimized for use even in complex and harsh environments including notably space or the deep sea.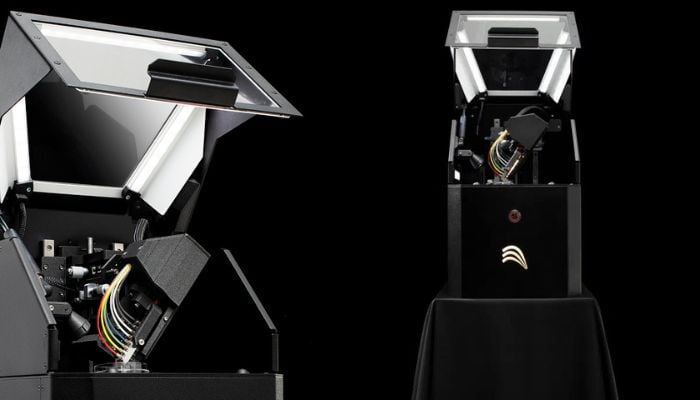 GeSiM 
The BS3.3 Prime is the new bioprinter from GeSiM, a company that offers custom bioprinters. It includes a set of tools to easily 3D print with most of the popular bioinks. GeSiM 3D bioprinters can create biocapsules for cell growth or deposit layers of bioinks on implants or microfluidic objects. The great thing about these printers is that different tools can be added or removed. The bioprinter features a printhead with temperature control, different wavelengths, pneumatic and mechanical extrusion. It is able to print a wide range of alginates, low-melt polymers, and certain PCLs. The BS3.3 Prime is the perfect choice for beginners with potentially increasing demands.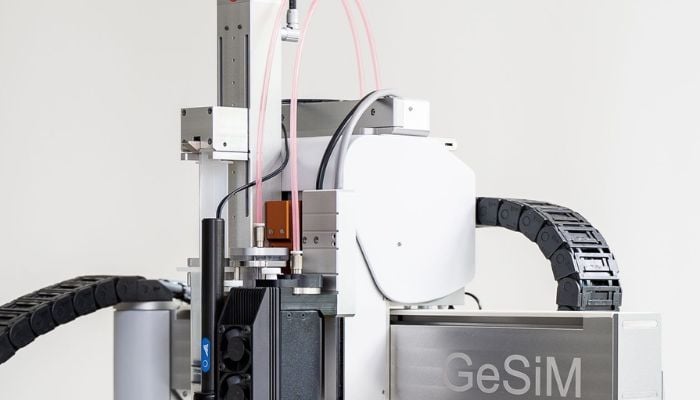 Inventia
Inventia is a startup created in Australia in 2013 and specialized in the distribution of equipment and reagents for medical research using 3D bio-printing. Their machine, Rastrum, is best known for its very compact shape. It is capable of printing 3D cell models at high speed and is mainly used by health professionals and researchers to test drugs, especially for cancer treatment. It is also suitable for the creation of tissues and organs. The 3D bio-printer is equipped with a biological safety cabinet, which complies with the strictest safety standards, as well as a double HEPA filtration. Note that during the printing process, up to 8 different cell types can be used simultaneously. The machine is not commercialized but you can contact Inventia to present your research projects and work with them.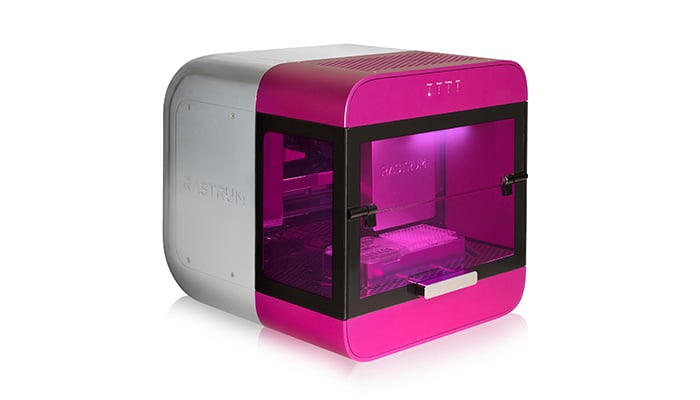 Organovo
Founded in 2007, the American company is mainly known for its research in human tissue bioprinting. In collaboration with Invetech, it has developed its 3D bio-rinter, the NovoGen MMX, which is now capable of creating tissues from the liver, kidneys, intestine, skin, pancreas and many others. It includes two print heads, one for extruding human cells, the other for a hydrogel, scaffolding or support matrix. Organovo does not market its bioprinter; it only sells it to drug manufacturers today so they can test their new products more effectively.

Poietis
3D bioprinting company Poietis specializes in tissue bioprinting based in France. Since 2016, it has accelerated its developments by partnering with companies like L'Oréal for the development of bioprinted hair, and others such as BASF. In October 2018, it announced the launch of its most ambitious project, a 4D bioprinting platform named "Next Generation Bioprinting (NGB)," which is based on four single-cell resolution technologies: computer-aided design, automated and robotic bioprinting, real-time process control and tissue modeling. In addition to that, Poietis launched two new 3D bioprinters, the NGB-R specialized for research applications and the NGB-C specialized for clinical developments. In 2021, the company made a name for itself with the installation of its platform at the AP-HM, which are the Marseille Public Hospitals. By using it, doctors aim to create implantable biological tissues. 
Regemat 3D
Created in 2011, the Spanish company has designed a REGEMAT 3D V1 bio-printer, designed for printing osteochondrial tissues and for other tissue applications. With a bioprinting volume of 150 x 150 x 100 mm, it offers a resolution of 150 microns on the XY axis and 400 nanometers on the Z axis. It includes three interchangeable heads, thus meeting a wide range of needs, from scaffolding to cell extrusion.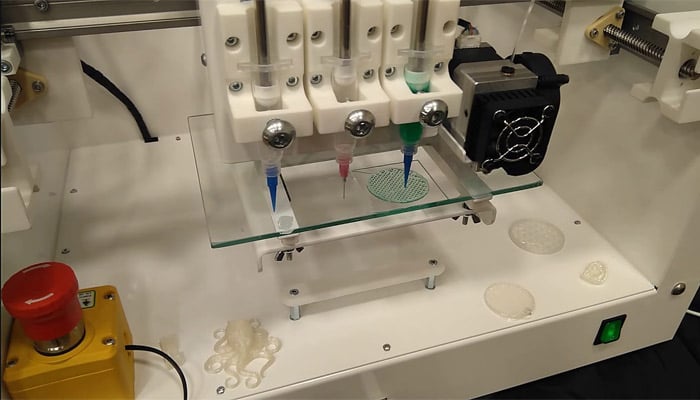 Rokit Healthcare
With the goal to bring the benefits of additive manufacturing to current care methods, Rokit Healthcare provides bioprinting solutions for today's healthcare methods. Using AM technologies, the company develops applications for the fields of bioengineering and medicine, such as disease modeling and tissue regeneration. Among the various solutions offered by Rokit Healthcare, one particular 3D printer that manages to stand out is the Dr. Invivo 4D2 3D printer. It is capable of producing human tissue models and implants, ias well as support hydrogels, implants and hydrogels, thermoplastic filaments, pastes and composite materials. By using these materials, it can create hard and soft tissues. 
UpNano
Nano One Bio from UpNano is a bioprinter that enables 3D printing of living cells for biological applications with a never before achieved precision. The  laser-powered 2-photon 3D printer is capable of building structures in 12 orders of magnitude. The new hydrogel material has been developed with Xpect INX (based in Ghent, Belgium), a spin-off company that specializes in the development of biocompatible materials. This particular material is the only resin available on the market that makes it possible to embed living cells directly from a culture plate into high-precision 3D printed structures for biological applications.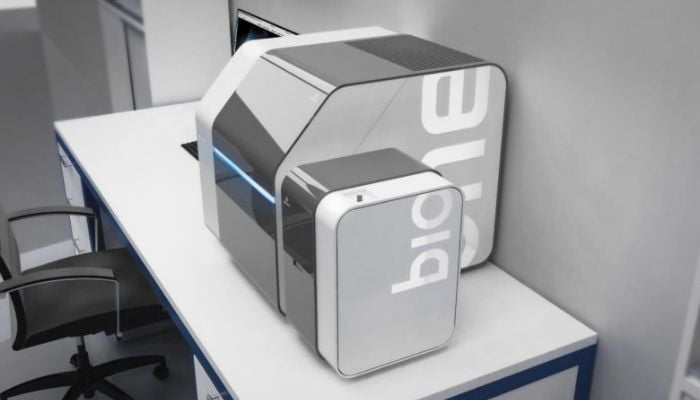 What do you think is the future of bioprinting? Let us know in a comment below or on our Facebook and Twitter pages if the listing above was useful! Don't forget to sign up for our free weekly Newsletter, with all the latest news in 3D printing delivered straight to your inbox!