14Trees Announces the Construction of 10 Kenyan 3D Printed Houses in 10 weeks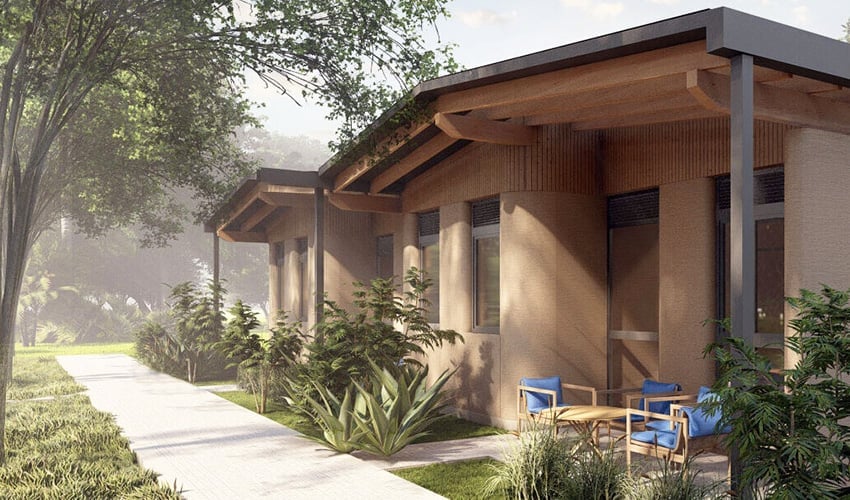 In the world today, many countries have entered a sustainable phase of aging. This means that life expectancy is increasing year after year, and the elderly population continues to grow. In contrast, some regions are experiencing a population explosion. This is particularly true in sub-Saharan Africa. According to the United Nations, the population of Africa is expected to rise to 4.5 billion in 2100, compared to 800 million in 2000. They also added that about one in two humans born by 2050 will be born in Africa.
Logically, an increase in population requires an increase in the number of houses to be built. In order for everyone to have a roof over their heads, building houses quickly is essential. This is why 3D printing can be the solution to the housing crisis. Indeed, this technology is now being used more and more in the construction sector. Less than two years ago, 14Trees, a joint venture between Holcim, a major player in sustainable construction, and British International Investment (the UK government's investor, which supports schemes in developing countries), announced Mvule Gardens, the project to build 52 3D printed homes in Kenya. After starting the manufacturing of the homes in October 2022, it has reportedly completed phase 1, which is the 3D printing of the walls of 10 houses in Kilifi. In total, the manufacturing of the housing structure will have taken 10 weeks, using only one 3D printer. In terms of size, the houses range from 56 m2 to 76 m2, and vary between 2 and 3 bedrooms per home.
More Affordable and Environmentally Friendly Homes
As expected when the project was announced, 14Trees is using 3D printing technology from COBOD, a manufacturer of 3D home printers. The joint venture uses the BOD2 solution. According to François Perrot, 14Trees' CEO, this manufacturing process has several advantages. "With 3D printing, you can solve two problems at once. You can build faster and with better cost efficiency, which will help make affordable housing a reality for the majority. In addition, you can build with less materials, which preserves the resources of the planet for future generations."
Indeed, according to 14Trees, 3D printing in construction can reduce CO2 emissions by up to 70% compared to conventional construction methods. In fact, the Mvule Gardens project has been awarded the EDGE Advanced sustainable design certification by IFC, the World Bank's development finance institution. The latter recognizes resource-efficient buildings with the potential to be zero-carbon. This is the first time a 3D printed housing program has achieved this certification. In terms of pricing, 14Trees says it is introducing more innovations in future homes to promote greater affordability. As a result, the joint venture hopes to offer up to 20 percent savings on construction costs. For now, home prices start at 3,610,000 Kenyan Shilling, which is equivalent to about €26,795. 14Trees is now embarking on a new phase that will include the construction of 10 to 15 more houses. To follow the continuity of the Mvule Gardens project, click HERE.
What do you think of 14Trees' project? Let us know in a comment below or on our LinkedIn, Facebook, and Twitter pages! Don't forget to sign up for our free weekly Newsletter here, the latest 3D printing news straight to your inbox! You can also find all our videos on our YouTube channel.
*All photos credit : 14Trees