Researchers Build World's First 100% Biosourced 3D Printed Home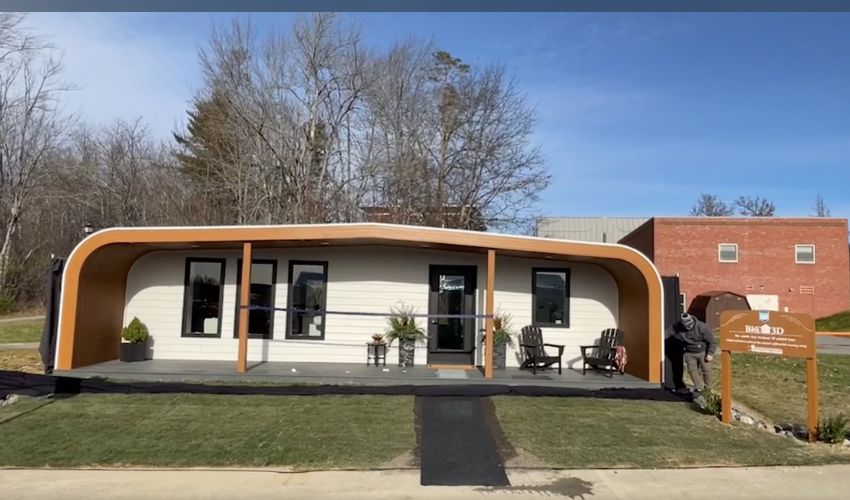 3D printed houses is a hot topic at the moment, as researchers look to improve the current housing situation in a sustainable and reproducible way. Researchers at the University of Maine have built the first ever 3D printed house of entirely biosourced materials. The University's Advanced Structures and Composites Center (ASCC) has developed the home, BioSource3D, in collaboration with MaineHousing and the Maine Technology Institute. They benefited from funding provided by the U.S. Department of Energy's Hub and Spoke program between the UMaine and Oak Ridge National Laboratory.
The new home is a 600 square feet prototype and has been made using what ASCC claim to be the world's largest 3D printer, namely the MasterPrint x3 from Ingersoll. Ingersoll is located in Illinois and is a manufacturer of large format printers. The MasterPrint x3 has a working volume from 6m x 4m x 2m, print volume of 18.3m x 6.7m x 3m) and can print 68kg per hour. It uses  a 5 axis machine head. The house is made of fully recyclable materials and is well insulated.
The Center's research focuses on forest-derived materials and takes advantage of Maine's status as the most forested state in the US. They use these resources to produce cellulose nanofibers (CNF) which can be dried and functionalized with thermoplastics. This is the method used to produce this 3D-printed biosourced house, with resultant properties which rival traditional materials. The center's focus keyword is GEM, or Green Energy and Materials, where they produce research projects to support Maine's goal of carbon neutrality by 2045. Other project successes from the University of Maine's ASCC include the production of the world's biggest 3D printed boat, 3Dirigo, which is simultaneously the world's largest 3D printed object at 25′ long and a weight of 5,000 lbs.
The importance of sustainable housing cannot be underestimated. As resources are depleted and housing becomes increasingly scarce, it is so important to be able to create homes relatively cheaply and quickly in a manner which can be repeated for years to come. According to the National Housing Conference, in the US hundreds of towns and cities have rising house prices and young people are not convinced by home ownership. Therefore, 3D printing could provide a viable long-term alternative to costly and time-consuming traditional methods. Similar projects have included the American firm Azure who will construct buildings using recycled plastic with their proprietary printer. For more information on this 3D-printed housing project, you can find the ASCC website HERE.
What do you think? Would you live in a 3D-printed house? Let us know in a comment below or on our LinkedIn, Facebook, and Twitter pages! Don't forget to sign up for our free weekly Newsletter here, the latest 3D printing news straight to your inbox! You can also find all our videos on our YouTube channel.
*Cover photo credits: University of Maine Advanced Structures and Composites Center on LinkedIn