10 new must see innovations at Formnext 2018
The Formnext trade fair ended last Friday in Frankfurt. During the 4 days, 650 exhibitors presented their solutions related to additive manufacturing and thousands of visitors went through the two halls in search of the latest innovations of the market. This year, Formnext has really established itself as the major event to attend with many innovations unveiled. Be it machines, materials, software or accessories, the objective being to accelerate the development of 3D technologies. 3Dnatives went on site to discover them and meet the most innovative actors at the moment: here are the 10 novelties that should not be missed at Formnext 2018.
1. The new high-speed technology from EOS
The German manufacturer EOS, known for its metal solutions, has officially introduced its 3D polymer printing technology called LaserProFusion. Offered as an alternative to injection molding, this process uses up to one million laser diodes at once with the key to speeds never reached yet on the market. The goal of EOS is to offer a much higher level of productivity and get closer to mass production. Little information is still available and the machine was not visible on the show. The first units are announced for 2021!
2. Stratasys arrives on 3D metal printing
The US giant announced its strategic arrival on the metal additive manufacturing market last May: it took advantage of the event in Frankfurt to say more about its technology Layered Powder Metallurgy (LPM), developed internally for several years. The process involves depositing a layer of combined metal powder with a thermal ink jet that acts as a binder. Aluminum should be one of the first materials available.
3. HP's 3D Metal Printer at Formnext 2018
Unveiled last September, the HP Metal Jet technology showed the ambitions of the manufacturer HP on metal, a decisively key material for players in the field. At Formnext, visitors were able to admire the machine for the first time as well as metal parts on the manufacturer's stand. An imposing printer with a very refined design that should be available from 2020 for only a few privileged users at first.
4. Kodak enters the 3D printing market
Best known in the world of photography, American Kodak embarked on 3D printing with their first FDM machine, the Kodak Portrait. The manufacturer had unveiled their first prototype at CES in Las Vegas this year and arrived at Formnext 2018 with its finished product. Equipped with a double extrusion system, transparent walls and a print volume of 200 x 200 x 235 mm, the machine is compatible with a variety of plastic filaments – PLA, ABS, Nylon, PETG and PVA. Nothing very innovative a priori; the firm focused on reliability and print quality.
5. BigRep expands its range of machines
As a large-format 3D printer manufacturer, BigRep has introduced two new machines in its lineup: the BigRep Pro and the BigRep Edge, which incorporate the Metering Extruder Technology. A more accurate and faster extrusion system for large parts. Both models, present at the Formnext 2018 show, are already available for sale. The Pro offers a print volume of 1005 x 1005 x 1005 mm while the Edge can print 1500 x 800 x 600 mm pieces. It should be marketed from the second quarter of 2019.
6. PAM Series M from French Pollen AM
From the 650 exhibitors, you could find a few French actors working with additive manufacturing including Pollen AM which for the first time featured its metal solution, the WFP Series M. Inspired by the technique of metal injection molding (MIM), the French manufacturer offers a machine cheaper than most market players and can now create stainless steel and titanium parts.
7. Intamsys FUNMAT PRO 410
The Chinese manufacturer Intamsys is expanding its range of 3D printers compatible with high performance materials such as PEEK or ULTEM. With a print volume of 305 x 305 x 406 mm and a double extruder that can go up to 450 ° C, the FUNMAT PRO 410 was unveiled at the show. The manufacturer has redesigned the design of its machine which aims to provide better adhesion of layers and a higher surface quality.
8. Speed ​​record for Nexa3D
It seems that the manufacturer Nexa3D has broken a record speed printing with its new SLA machines. Being a promising 6 times faster than the current competitive solutions of the market, while offering a volume 2.5 times larger. Its two 3D printers, NXE200 and NXE400 should be marketed in early 2019 starting at $ 19,950 and $ 49,950 respectively. A convincing manufacturer to follow and in particular for the former CEO of 3D Systems, Avi Recheintal, that are to become its CEO.
9. Colossus, additive manufacturing equipment in a container
The Belgian start-up Colossus presented for the first time its 3D printer enclosed in a container, based on the use of plastic pellets. On the specifications side, we were impressed by its print speed (15 kg per hour) but also by its print volume of 3 x 1.5 meters. The container has been designed so that the machine can be easily transported. The container offers a closed heated enclosure and a material storage system.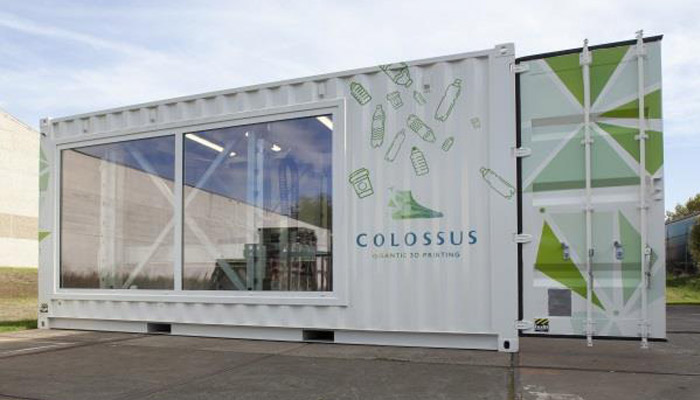 10. EnvisionTEC Introduces Enhanced P4K Perfactory to AI
The manufacturer took advantage of Formnext 2018 to introduce a new line of DLP, P4K 3D printers that use a 4K projector and artificial intelligence. Three models are now available, each with a different print volume – the largest being 23 x 14.15 x 22 cm. They are based on an AI program to modulate the pixels and thus obtain a high precision and a very smooth surface finish.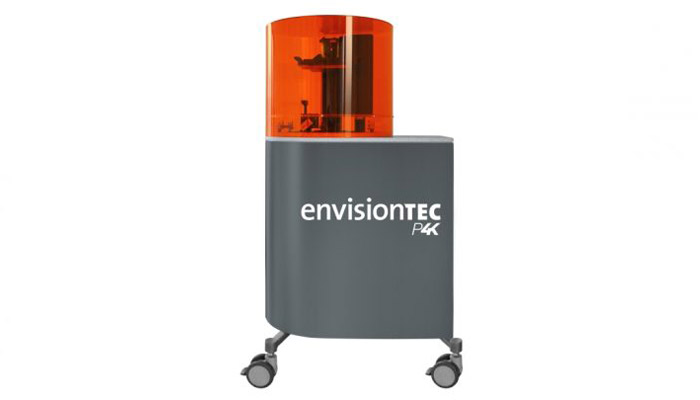 What's new at Formnext 2018 that marked you? Let us know what you think in a comment below or on our Facebook and Twitter pages! Don't forget to sign up for our free weekly Newsletter, with all the latest news in 3D printing delivered straight to your inbox!